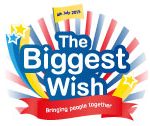 St Albans Round Table has sponsored a family from the outskirts of St Albans to take part in 'The Biggest Wish' at Drayton Manor. The Biggest Wish is a coming together of families from all over the UK which children who suffer from life threatening illnesses, organised by Round Table's national charity "The Children's Wish."
On 4th July families from all over the UK met at Drayton Manor Theme Park, accompanied by their 'Wishmakers' – Round Tablers from around the country. St Albans Round Table sponsored and accompanied the Dorgu family on the day. Several conversations between Keech Hospice and the St Albans Round Table ended in being introduced to the family who have been supported by Keech Hospice over the last year. Their daughter Zofeya was diagnosed with an aggressive brain tumour in July 2013 and after major brain surgery, she underwent radiotherapy and more than a year of chemotherapy. She is currently in remission. St Albans Round Table are very grateful for the introduction and were only too happy to sponsor the family.
The day itself started early at 9 o'clock with a welcome party with children's entertainment, provision of snacks & drinks, t-shirts and issuing of tickets including meal vouchers and a general buzz in the air. A large queue of 100 'Biggest Wish' families and 'Wishmakers', about 400 people in total, where laughing and chattering and looking forward to the day. The Dorgu family and their Wishmaker Christoph Lutz from St Albans Round Table enjoyed bumper cars, train rides and cable cars. Much laughter and excitement was heard all across the park, a lot of it coming from the Dorgu family, too! At lunch time everyone enjoyed a break and some much needed food to refuel. The afternoon meant more roller coasters and a visit to Thomas World, the zoo and the playground. To top things off, the family also met for a chat and photo with Sharon Davies, Olympic silver medallist swimmer, who supported the event. By the time the park closed, everyone was tired but very happy and full of memories of a great day. St Albans Round Table also sponsored a stay for the family in the Drayton Manor Hotel which allowed the family to make a weekend of it – a welcome rest for all.
A video made by the family about how their children experienced Zofeya's illness
Christoph Lutz, St Albans Round Table chairman and 'Wishmaker' said "It was great honour and privilege to spend this day with the Dorgu family. It was amazing to see Zofeya's smile and enjoyment during the day and to see how much it meant to the family to spend this carefree day together." Mum Noemi summed up the day: "We had an amazing day and seeing the kids smile and have fun is very special for us after the 1.5 years we've been through. It was so lovely to be invited to this event and all of us will treasure today's memories for a long time".
St Albans Round Table would be delighted if you want to support Keech Hospice in their work. Please visit their website  to donate online. If you would like to follow Zofeya's story, you can look at her blog.
Some more images of the day